Hotels in Danang

Truong Sa Street, Khue My Ward, Ngu Hanh Son District, Bac My An Beach, Danang, Vietnam
Hotel area: Bac My An Beach
Number of rooms: 87
Free Wi-fi

Hyatt Regency Danang Resort and Spa is a luxury hotel in Danang located on Vietnam's picturesque central coast. Situated on an immaculate stretch of white-sand beach, the resort offers an idyllic oceanfront setting, with sweeping views of the East Sea.
Bordered by the iconic Marble Mountains, this exclusive beachfront resort and residential complex, comprises 200 hotel rooms, 182 residences from one to three bedroom and 27 ocean view villas. The resort features contemporary design, using Vietnamese craftsmanship and decor, setting a new standard in Asian hospitality and style.
Hoa Hai Ward, Ngu Hanh Son District, Non Nuoc Beach, Danang, Vietnam
Hotel area: Non Nuoc Beach
Number of rooms: 409
Free Wi-fi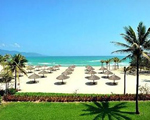 The luxurious Furama Resort Danang is a true icon of Vietnam tourism. This 5-star haven on world-famous Da Nang beach is celebrated as Vietnam's most prestigious resort – counting royalty, presidents, movie stars and international business leaders among its celebrity guests.
A multi-award winner for its unfaltering commitment to world-class service and facilities, the Furama is not only consistently voted Vietnam's No 1 resort, leading international polls also rank it among the very best resorts in Asia.
Truong Sa St., Khue My Ward, Ngu Hanh Son Dist., Bac My An Beach, Danang, Vietnam
Hotel area: Bac My An Beach
Number of rooms: 198
Free Wi-fi

Bai Bac, Sontra Peninsula, Son Tra Peninsula / Monkey Mountain, Danang, Vietnam
Hotel area: Son Tra Peninsula / Monkey Mountain
Number of rooms: 197

Truong Sa Street, Khue My Ward, Ngu Hanh Son District, Bac My An Beach, Danang, Vietnam
Hotel area: Bac My An Beach
Number of rooms: 187
Free Wi-fi