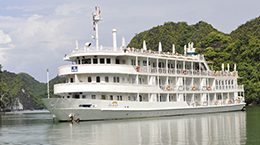 Departure: Daily from Hanoi
* Free Kayaking
* Free Vietnam visa service
Boarding at: Halong Bay
From $340/person
The Au Co launched in Apr 2012 - The biggest cruise on the bay is a remarkable 55.29m in length and 10.43m in width. Each of our 32 spacious cabins has its own private balcony or terrace – allowing unparalleled private views of the surrounding seascape.


On the upper decks, our elegant restaurant and open-air bars are designed along principles of "Feng Shui" to heighten our passengers' sense of connection with the wonderful environment of the surrounding Gulf of Tonkin, as well as giving them a taste of the Orient and Vietnamese culture. Through our innovative use of space, design features, and luxurious attention to detail, we aim to give our passengers a truly unique cruise experience.
THE AU CO EARLY BIRD PROMOTION
Book 45 days prior departure date in advance: 10% off



Terms and Conditions:
- Not applied for cruise on March, April, November and from 15 - 31 December 2018
- Not applied for charter the cruise
- Not combine with other promotion
- Reservation Code: TAEB2018
RATE
: This rate is quoted in
USD per Cabin
3 DAYS PROGRAM
1 October 2019 - 31 December 2019
1 April 2020 - 30 September 2020
(Summer Promotion)
CRUISE RATE
Double Cabin
Single Cabin
Triple Cabin
Double Cabin
Single Cabin
Triple Cabin

DELUXE

848
634

N/A

945
449

N/A

DELUXE 3 PAX , GRAND DELUXE 3 PAX

1023

N/A

1281

N/A

GRAND DELUXE

838
634

N/A

1022
770

N/A

EXECUTIVE

907
686

N/A

945

713

N/A

EXECUTIVE 3 PAX

1106
1106

N/A

1404

1404

N/A

LONG QUAN SUITE

1316
985

N/A

1490
1109

N/A

AU CO SUITE

1473
1103

N/A

1642
1248

N/A
| | |
| --- | --- |
| Transfer Services (3 days 2 nights) | Price per person |
| Shuttle Bus Service: Hanoi (Hotel) - Halong - Hanoi (Hotel) | 30 |
| Private transfer: Hanoi (Hotel) - Halong - Hanoi (Hotel) | 75 |
| Private transfer: Hanoi (Hotel) - Halong - Hanoi (Airport) | 85 |
Above Price Includes:
Excludes:

- Welcome cocktail, entrance fee and sightseeing fee.
- Accommodation in luxury air-conditioned en-suite cabin.
- 2 lunches, 2 dinners, 2 breakfasts
- Onboard insurance, taxes and service charges.

- Transfer round trip (on request)
- Beauty spa services.
- Other beverages, tips and personal expenses.
- All other services not clearly mentioned in the inclusion list.
Children Policy:
- From 13 years old is considered as an adult
- Children from 6 to 11 years old sharing the existing bed with parent: US$ 95/ night. Extra mattress is upon availability
- 2 children stay in 1 private cabin will be discount 25% from the cabin rate.
- Children under 6 years old stay with parent: Free Of Charge

Surcharge for Christmas Eve (24 December) and New Year Eve (31 December):US$ 50 per adult and US$ 25 per child

Note: The below itinerary is subject to change without prior notice and depends on weather condition!
Day 1: Hanoi – Halong Bay
Leave Hanoi at 8:00 AM if you take the private transfer or from 7:30 AM to 8:00 AM if you take the shuttle bus and arrive in Halong Bay around 12:00PM (transportation service on your request).
12.30: Arrive in Halong Bay. Check-in at the cruise center, take rest and get ready to start your lifetime cruise.
12:45: Depart from Tuan Chau Island, meet the crew on board and receive the safety briefing.
13.00: Let the vacation begin with a delicious lunch as the boat cruises toward South East Ha Long Bay passing by Chicken Crock, Finger Islet, Toad Islet…
15:00: Explore one of the biggest caves in Ha Long bay, beautiful stalactites and stalagmite in Surprise Cave.
17.30: Bar opens for the Happy Hour "Buy one get one free". It's truly happy time to relax, while enjoying tropical cocktail and complimentary snacks.
18.00: Exciting "Master-Chef Competition" and fruit carving demonstration on sundeck (or in the restaurant in case of inclement weather) while the boat cruises to overnight anchorage area.
19:30: Set menu dinner is served in the restaurant while the boat is anchored for our overnight stop.
21:00: Free time to be spent watching movies in the restaurant or on the sundeck, squid fishing at reception.
Day 2: Ha long Bay – Lan Ha Bay
06.15: Start your day with a Tai Chi lesson on the sundeck with complimentary tea and coffee.
07.30: Have breakfast onboard while The Au Co cruises through the Bay passing a lot of beautiful spots. It's good time to take amazing pictures.
09.00: Arrive at a local island, where a pretty small village nestles and waits you to explore. Spend your active morning on cycling and exploring the tropical junk in national park with local guide. Visit ancient houses and "Bhaya Community Farm", get to know about agricultural life and the story of Bhaya Community project here.
10:30: Return to the boat. Take time to relax.
12:00: Enjoy lunch in Ha Long restaurant while The Au Co slowly passes by beautiful karst towers.
14:30: Our captain and chief engineer will show Bridge and Engine room. A special tour allowed by the captain.
15:00: Time for kayaking, leisurely explore the hidden caves & karst on the bay. Enjoy serene and stunning close-up beauty of Halong Bay from kayaks.
16:30: Back to the boat for relaxation on board.
17:30: Make the most of an extended Happy Hour (buy 1 get 1 free) and enjoy complimentary snack.
19:30: Enjoy the barbeque buffet in the restaurant while the boat is at anchor
21:00: More free time to be spent watching movies in the restaurant, squid fishing at the reception OR join our kitchen staff for the fruit carving session.
Day 3: Halong Bay - Hanoi
06:30 Start the day with a Tai Chi lesson on the sundeck or enjoy the breath-taking views of the bay while The Au Co cruises leisurely in Halong Bay.
07:00 Take your time over breakfast.
08.00 You would visit Cua Van floating village by bamboo boat, where you witness rustic floating houses, get to know about local life on the bay.
09:00 Back to the boat, prepare for check out: passenger's bags must be put in the corridor.
09.30 Join a Vietnamese traditional tea ceremony before check-out.
10:30 Disembark in Tuan Chau port. Farewell. Your transfer is awaiting for you there and transfers you back to Hanoi (transportation service on your request).
Note: The above itinerary is subject to change without prior notice and depends on weather condition!
The first thing that strikes you about each of our 32 luxury Cabins and Suites is the sense of space, the abundance of light and the level of refinement in the elegant interiors.
Large floor-to-ceiling windows and glass doors in the cabins and cabin bathrooms allow natural light to flood in and offer panoramic views of the Gulf of Tonkin. Most cabins and suites provide additional space and comfort in the form of your own private balcony - the ultimate place to relax and enjoy the fresh air, day or night.
Each of the cabins and suites is tastefully appointed with timber floors, handcrafted wooden mosaic furniture and elegant interiors. Each cabin features individual climate-control thermostats, telephone, in-cabin refrigerator, coffee/tea maker, safe box, and hair dryer. Meanwhile the luxurious bathrooms are extremely well appointed with deluxe bathroom amenities.
14 Deluxe Cabins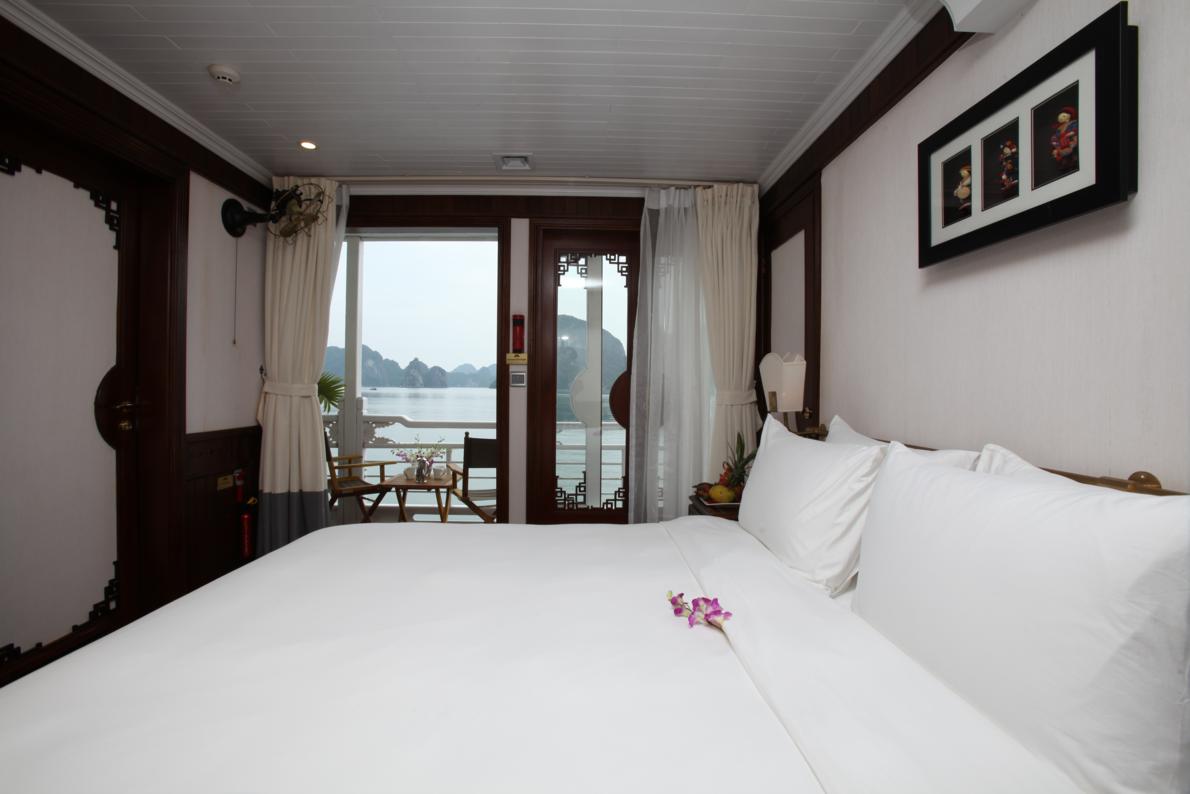 There are 14 Deluxe Cabin located on the main deck of The Au Co. 12 Deluxe Cabins at 20 square metres and 02 Deluxe Cabins at 25 square metres each are furnished in a minimal style with a choice of double or twin beds, and two lounge chairs with a coffee table. The bathroom, furnished in wooden, features a separate glass-enclosed shower stall.
2 Grand Deluxe Cabins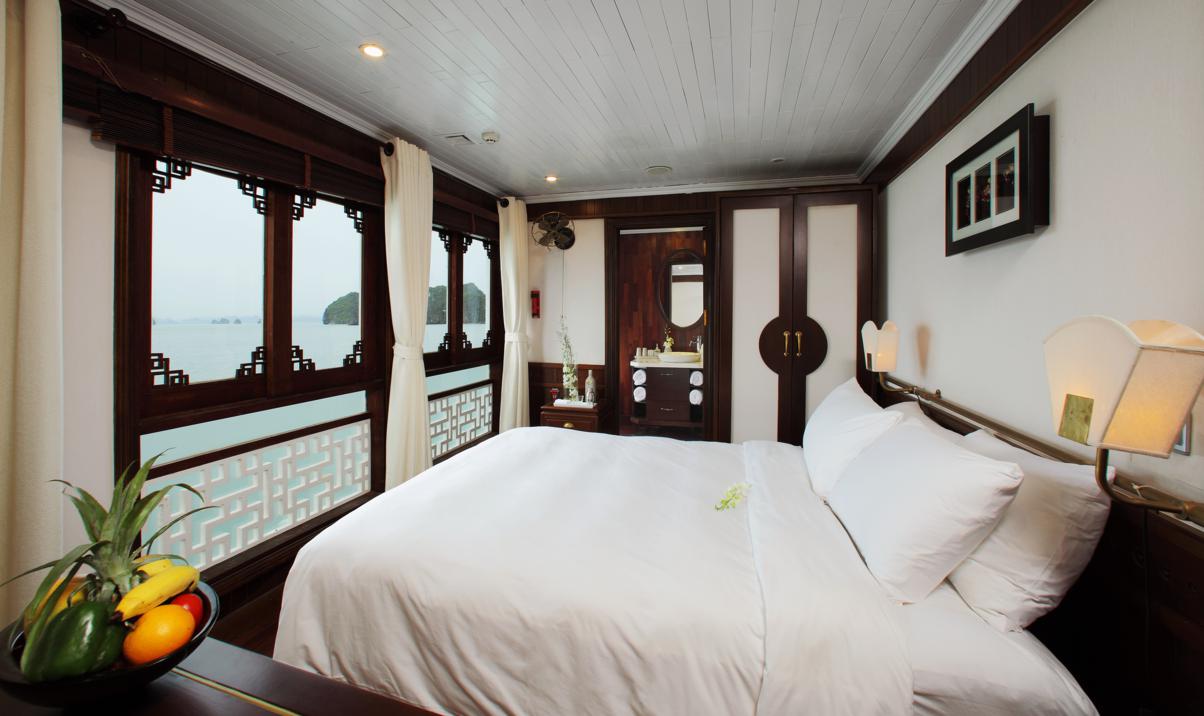 Located on the upper deck, our two Grand Deluxe Cabins offer passengers stunning views of Halong Bay through their panoramic windows. Each cabin is 20 square metres, including an en-suite bathroom and handcrafted furniture. As with all our cabins and suites, the sense of space and luxury is enhanced by the elegant décor and minimal style.
12 Executive Cabins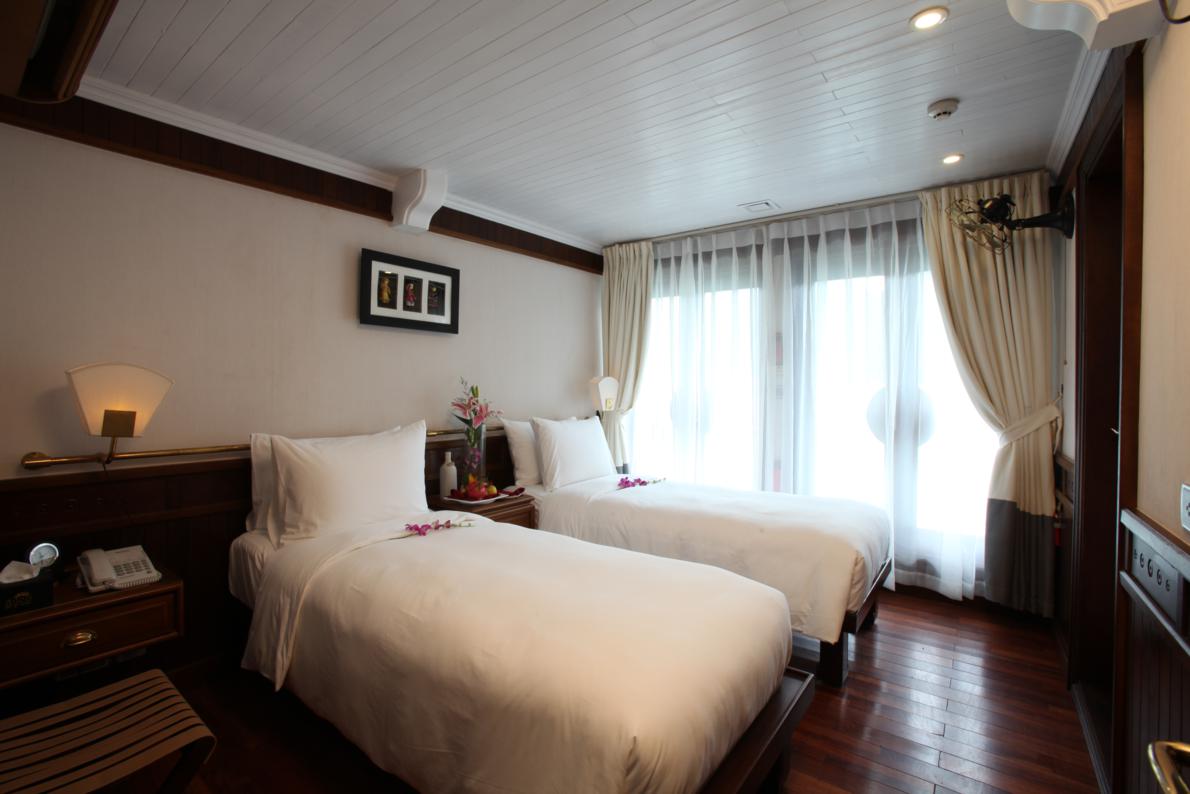 Located on the upper deck, The Au Co executive cabins at 20 square metrers each offer extensive views of the seascape during your cruise thanks to their floor-to-ceiling windows and glass doors. Their chic interiors and contemporary furnishings, including hardwood floors, handcrafted bed and tables, give a harmonious balance between modern design and traditional detailing.
2 Long Quan Suites

Named after the legendary father of the Vietnamese people, Lac Long Quan, and commanding a great position and views from the bow of the ship, the Long Quan Suites are very generous 36 square metres. With their spacious private terraces on the upper deck they offer guests the utmost in luxury and privacy, combining sumptuous indoor and outdoor living spaces in which to relax.
2 Au Co Suites

Named after the legendary mother of the Vietnamese people, Au Co, it is only fitting that the largest suites on the boat are named after her. Occupying an unrivalled position at the aft of the boat with unparalleled views, both of the Au Co Suites are an extremely generous 40 square metres. With their spacious private terraces on the upper deck they offer guests the utmost in luxury and privacy, combining indoor and outdoor living spaces in which to relax.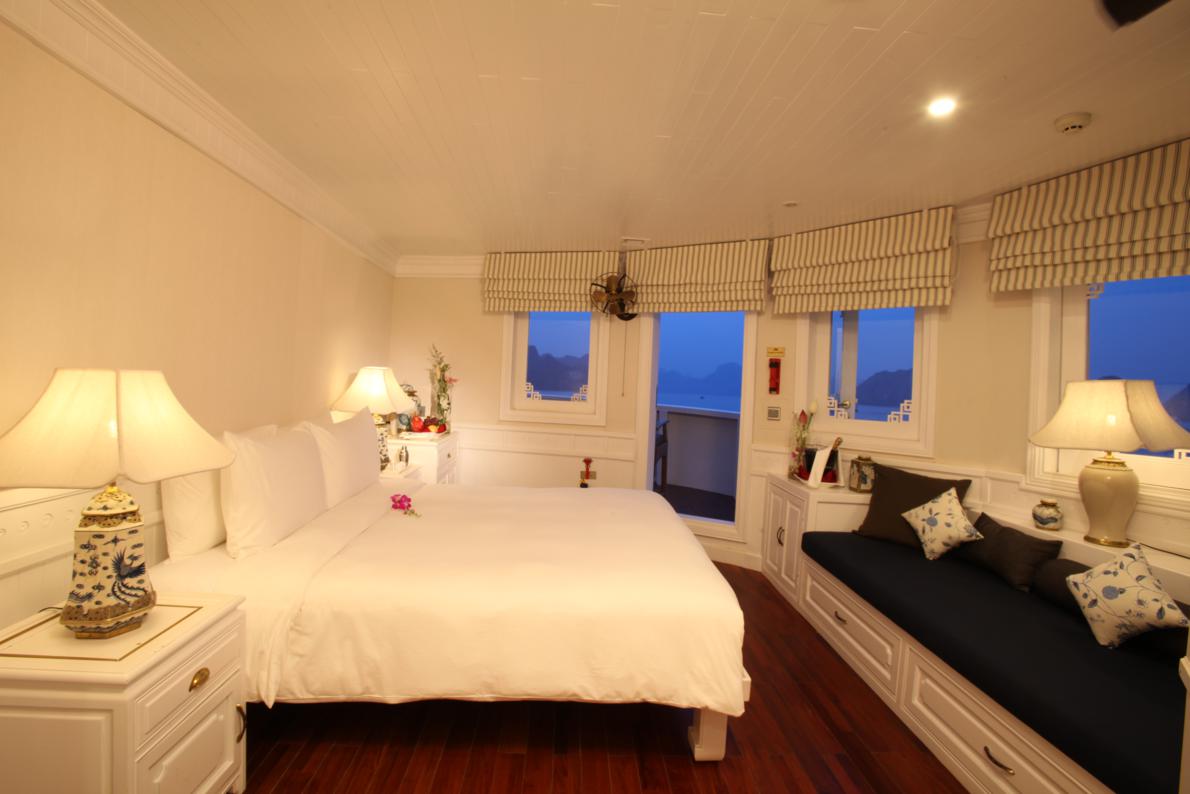 Dining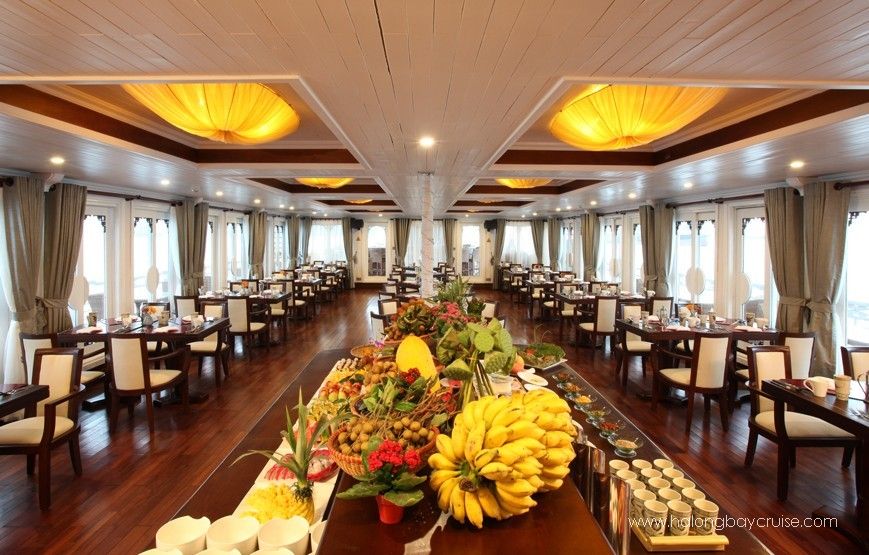 Dining aboard The Au Co is an experience not to be missed. You will dine while passing poetic landscapes and enjoying fabulous dishes prepared by our professional team of chefs. They have designed a menu which is both healthy and delicious using local ingredients, including locally caught seafood and vegetables grown in Viet Hai village on Cat Ba Island (you will have a chance to visit The Au Co Green Farm on the second day of your cruise) and also designed to awaken all five senses. The Au Co menu is rich and diverse, from a lunch buffet featuring fresh seafood, through a full range of aperitifs, cocktails, drinks, and snacks to a luxury dinner set menu with specialities from all three regions of Vietnam, as well as international dishes.
Wellness
Cruising aboard The Au Co you are likely to experience a sense of calm and well-being. But to make sure we have also added spa and jacuzzi facilities, for those simply seeking relaxation, or those wishing to unwind after a day packed with adventurous activities.
Spa
For complete stress relief, why not pamper yourself with a therapeutic massage either in the tranquility of the Spa room or in the open-air Spa area – drifting off into bliss as the cruise drifts along.
Jacuzzi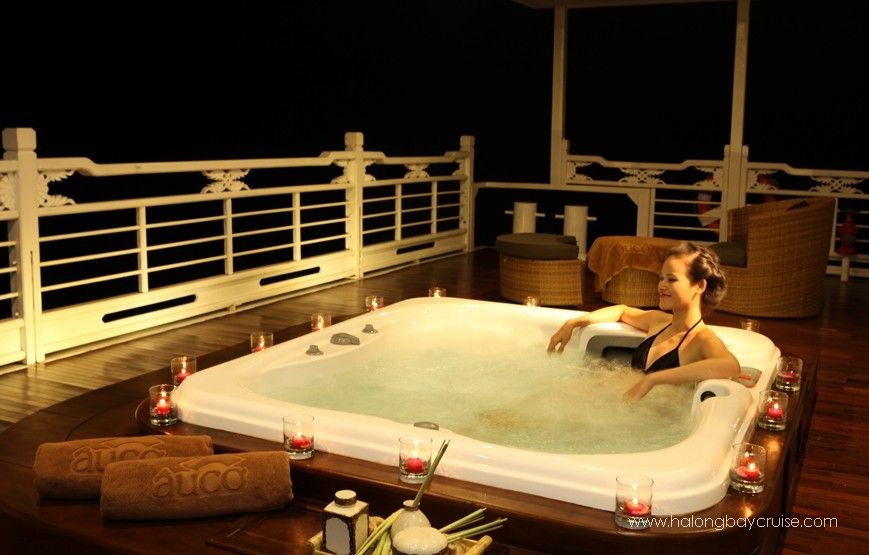 After an exciting day of adventurous activities and cultural excursions what better way to relax and unwind than in The Au Co's open-air Jacuzzi. Feel any aches and pains drift away as you sip a cocktail while taking in the fantastic views of the seascape as you voyage at sunset.
Activities
The Gulf of Tonkin is the perfect place to experience a wide range of activities, from biking to kayaking, from swimming to squid fishing. Whichever you choose you will do so surrounded by some of the most dramatic and exciting scenery, heightening your sense of adventure.
Kayaking
This is not only a healthy sporting activity but also one of the best and easiest ways to explore the magnificent caves, lagoons and World Heritage sights of Halong Bay; as well as the more unspoilt, neighbouring bays of Lan Ha and Bai Tu Long. Famous for its thousands of islands and islets spread throughout the wide bays, our small kayaks for 1-2 (and even 3) people are not only easy to control and great exercise but also offer a fresh and interesting perspective on the delightful scenery surrounding you.
Biking on Cat Ba Island
Taking a leisurely bike ride through the scenic landscape of Cat Ba National Park is one of the best ways to enjoy the beauty of this wonderful island. Cat Ba is the largest island in the Gulf of Tonkin. Indeed, the Lonely Planet described Cat Ba as being 'rugged, craggy and jungle-clad, it is straight out of Jurassic Park'.
Swimming and snorkelling
'Really nice and refreshing' is how passengers often describe wallowing in the placid waters of Halong Bay, Lan Ha Bay and Bai Tu Long Bay. Indeed, this is an experience not to be missed. Whether you choose to swim or snorkel, The Au Co staff are always on hand to ensure your safety and make sure you have an enjoyable time in the cool, dark waters of the Gulf of Tonkin.
Squid fishing
Sleepless in Halong? We have the cure! As night falls, The Au Co's staff will hand out fishing rods and guide you in this interesting pastime, which could easily occupy an entire evening. Be patient, focus, and soon, with a flick of the wrist, you can celebrate your very first catch! And of course, your 'reward' is to see the fruits of your labour turned into one of many inspired dishes by The Au Co's team of chefs.
Other Luxury Cruises
Tags