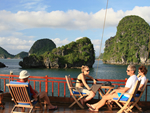 Halong Bay is one of Vietnam's top attractions – The name "Halong " translates as 'where the dragon descends into the sea'. You will experience the unforgettable view of blue water intermingled with over two thousand limestone islets…
Halong Bay is made up of 1,969 islands of various sizes, 989 of which have been given names. There are two kinds of islands, limestone and schist, which are concentrated in two main zones: the southeast (belonging to Bai Tu Long Bay), and the southwest (belonging to Halong Bay). This densely concentrated zone of stone islands, world famous for its spectacular scenery of grottoes and caves, forms the central zone of Halong Bay, which has been named a UNESCO World Heritage Site.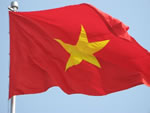 Vietnam General Information.
Vietnam-National-EmblemVietnam officially the Socialist Republic of Vietnam (Cộng hòa xã hội chủ nghĩa Việt Nam) is the easternmost country on the Indochina Peninsula in Southeast Asia. With an estimated 87.8 million inhabitants as of 2011, it is the world's 13th-most-populous country, and the eighth-most-populous Asian country. The name Vietnam translates as "South Viet", and was officially adopted in 1945. The country is bordered by China to the north, Laos to the northwest, Cambodia to the southwest, and the East Sea (Bien Dong) to the East. Its capital city has been Hanoi from 1975.